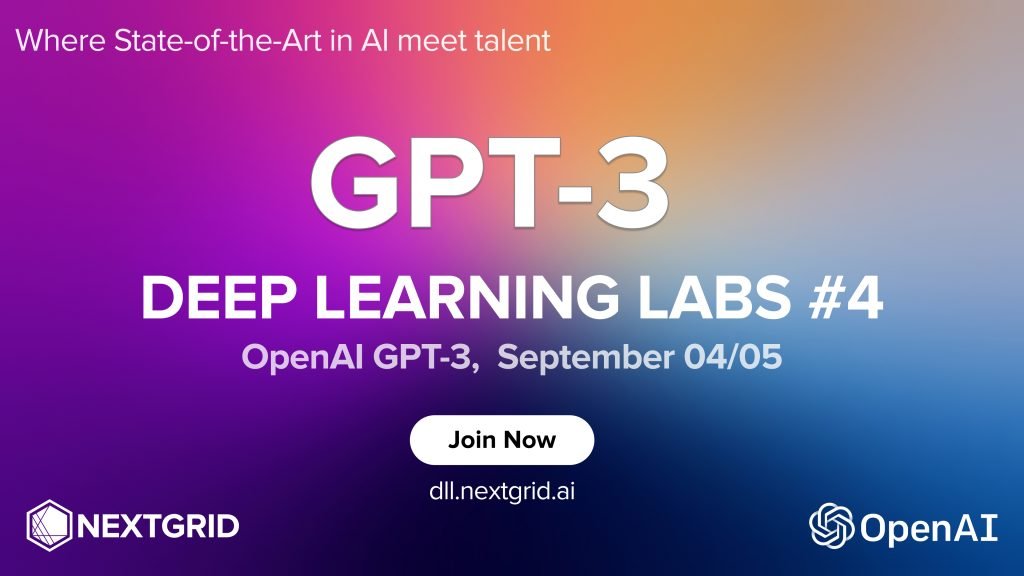 Join Us on August 28th for Our Next GPT-3 Hackathon
Nextgrid.ai welcomes you to join us at Deep Learning Labs 2021#4. For this event, we will launch our own platform and you can already visit it and register for the event https://lablab.ai/ and join our Discord (we are moving away from Slack)
Once again we're partnering with OpenAI to give the DDL community the opportunity to build with the world's most powerful artificial intelligence language model: GPT-3!

Check out this video from DLL #2 / 2021
https://www.linkedin.com/feed/update/urn:li:activity:6790296504226648064
About GPT-3
Generative Pre-trained Transformer 3 is an autoregressive language model that uses deep learning to produce human-like text. It is the third-generation language prediction model in the GPT-n series created by OpenAI.
GPT-3 access
As a participant in the event, you are fast-tracked in the GPT-3 / OpenAI closed beta program and receive GPT-3 access. (If you already have access we will add new tokens)
Learn more about GPT-3
https://openai.com/blog/gpt-3-apps/
When
– Saturday 4th September from 12 pm to 8 pm CET
– Sunday 5th from 7 pm to 10 pm (presentations).
Before signing up, make sure that you will be able to attend.
Prize
The top three teams will receive:
– additional GPT-3 tokens for further development
– vouchers on DigitalOcean.
To attend please visit the https://lablab.ai/ and register for the GPT-3 Hackathon event
Additional Links
Submissions from previous GPT-3 Deep Learning Labs 2021
https://nextgrid.ai/news/gpt-3-deep-learning-labs-hackathon/
Video from previous DLL event
https://youtu.be/FstI61d60-0
Hosted by Nextgrid
Check us out at https://nextgrid.ai